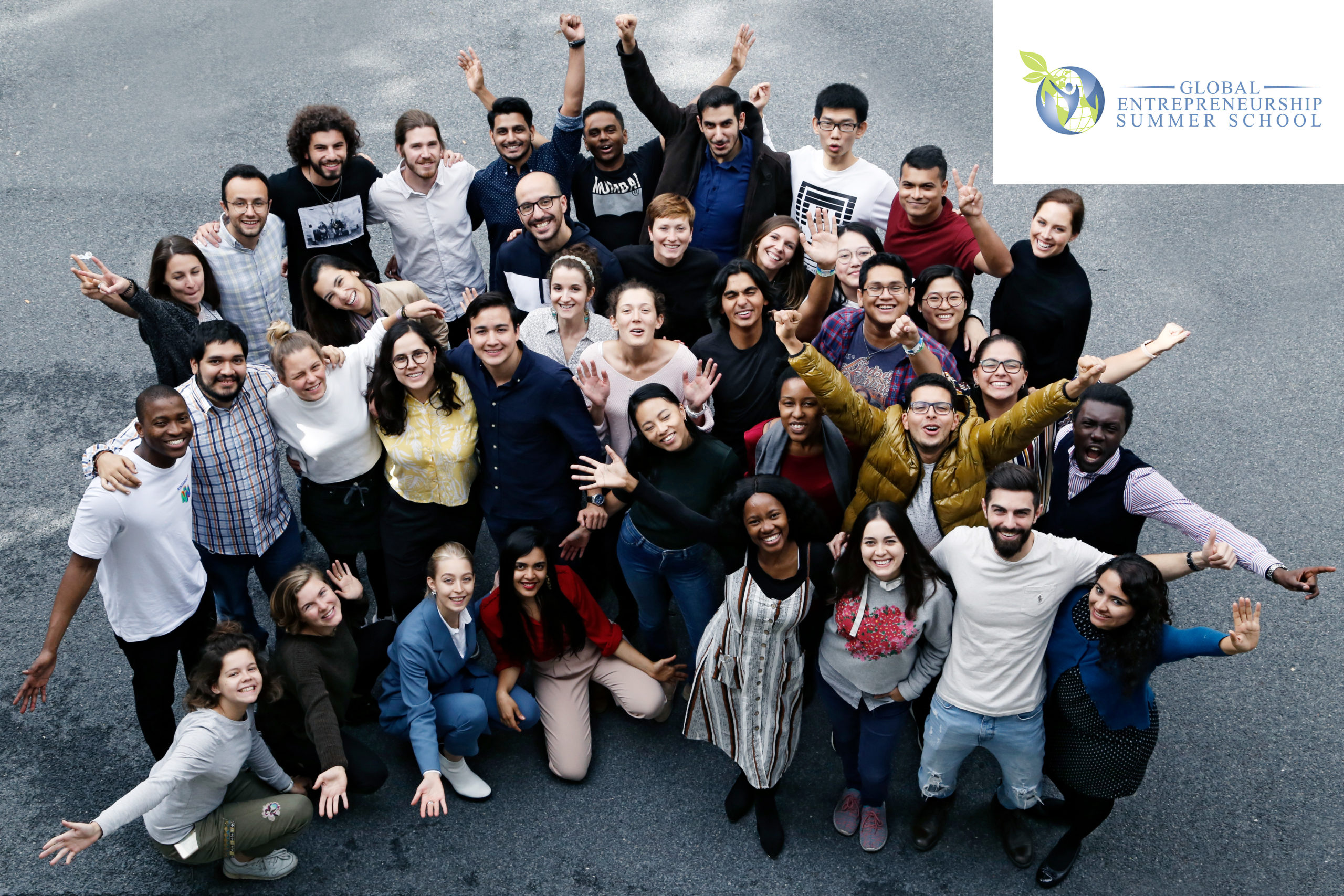 Ready, Set…sprint! The Global Entrepreneurship Summer School (GESS) began with a bang on the 19th of September in Munich. Each year the challenges at GESS focus on innovative ideas to foster societal change. For the first time, this year's GESS explicitly focussed on taking climate action. Under the topic "Oceans & Waters", students developed solutions to sustain the basis of our blue planet.
Rising sea-levels, plastic contamination and dying corals
Participants tackled issues like water pollution, disappearing coral reefs, and dwindling aquatic species. Each interdisciplinary team worked with an existing technology and repurposed it into a business that has both a sustainable impact on society and a self-sustaining profit model. This was certainly a challenge. But the 35 students from 21 different countries demonstrated passion, resilience, proactivity, and ingenuity in overcoming obstacles. In the end, they were not only a team, but a family.
Final presentations at the 'Impact Show'
What the participants did not know when they began their journey: that they had to present their findings at the final "Impact Show" in front of 200 audience members. Nervous but excited, the seven teams stood with a common goal: win over the audience to invest in their business idea.
But the path to the finals was paved with lots of learning, entrepreneurial resilience, pressure, and – fun. Throughout the week, participants went through highs and lows, but grew stronger and bonded despite and, even because of, their different backgrounds. There is power in community as one participant reflected "we want to solve global problems, so its great that GESS brought together a group with a truly international perspective."
How GESS works
Yet the teams were not alone on their journey. Each team was been paired with a coach that provided feedback and assistance on technical questions. Participants learned through interactive input sessions lead by renowned entrepreneurs. From prototyping to improv workshops, these sessions challenged participants to open their minds, adopt a critical attitude and create sustainable ideas. As one of the Co-Founders, Andy Goldstein, stated: "It's not about having all the answers. It's about inspiring people to think: this is a great idea' I want to take it to the next level."
Oktoberfest and Climate Strike
A highlight was definitely the expert session at the Oktoberfest and the attendance in the international climate strike on 20th of September. For most participants, these two events were firsts.
---
With programs in Querétaro, Shanghai, Cape Town, and Munich, GESS is making a global impact. GESS believes in the collaborative power of entrepreneurial thinking for a better and sustainable future.
If you are interested in applying for GESS 2020, you can find the application reminder here:
https://globalsummerschool.org/reminder/.
Thanks to our partner the BMW Foundation Herbert Quandt, our supporters Paulaner, Bracenet, INSTINCT, and RatioDrink for making this week possible.
PGlmcmFtZSB0aXRsZT0iR0VTUyAyMDE5IOKAkyBXcmFwIHVwIFZpZGVvIE11bmljaCIgd2lkdGg9IjEwODAiIGhlaWdodD0iNjA4IiBzcmM9Imh0dHBzOi8vd3d3LnlvdXR1YmUtbm9jb29raWUuY29tL2VtYmVkL0VXSEpYaDgzYUFrP2ZlYXR1cmU9b2VtYmVkIiBmcmFtZWJvcmRlcj0iMCIgYWxsb3c9ImFjY2VsZXJvbWV0ZXI7IGF1dG9wbGF5OyBjbGlwYm9hcmQtd3JpdGU7IGVuY3J5cHRlZC1tZWRpYTsgZ3lyb3Njb3BlOyBwaWN0dXJlLWluLXBpY3R1cmUiIGFsbG93ZnVsbHNjcmVlbj48L2lmcmFtZT4=